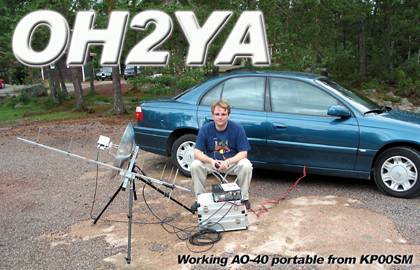 In above picture I was working SSB on AO-40 Satellite.
Rig is Yeasu FT-847, 50W out @70cm
TX antenna is 1/3 part of 21el F9FT/Tonna 70cm yagi
RX antenna is 60cm dish with patch feed
Kuhne/DB6NT down-converter (13cm->2m), NF 0.6dB.
QTH was clubstation OH1AA summer camp Tippsund Taivassalo Finland, KP00SM.
My pages and content
FINNISH: Satelliittiworkkiminen (POISSA tilapäisesti sivujen uudelleenorganisoinnin vuoksi)
My INSTAGRAM account, PLS follow! (Updated near daily!)
My APRS and Weather station OH1RDS, you can look current weather from here (Updated 2019/03)
---
oh1sa@amsat.org, OH1SA/OH2YA homepage